Silicone Render
Silicone render is a finishing coat to be applied over render, containing aggregates to display an attractive finish. It is applied to new and reinforced existing render to seal and enhance the appearance.
Silicone render is available in a wide range of colours.
Coloured Render
Coloured render known as through-coloured renders are pre-mixed bags of render, which are pre-coloured during manufacture.
Polymer renders are available as through coloured render.
These renders can be particularly appealing as they do not require painting and offer long term protection on a broad range of surfaces.
Through-colour render will allow a smooth finish to be achieved by the use of a plastic trowel or sponge.
Insulated Render
Insulated render helps prevent heat loss and is a great way to save on heating bills.
Insulated Render is suitable for use on external walls of solid masonry or concrete construction. The system incorporates phenolic insulation. Wall insulation is a technology developed to improve the thermal performance of buildings (helping reduce CO2 emissions) by the application of insulation and a reinforced decorative weatherproof render to the external wall surfaces.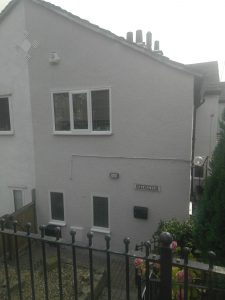 Polymer Render
Polymer renders are the most modern products in the market place. Polymer renders incorporate silicone water repellents to the render surface whilst allowing water vapour to pass through the render and lets the substrate breathe. The use of mesh reinforced base coats provides a high strength base for the finish coat.
The polymer renders come in a wide range of colours and can be finished with a flat sponged float finish.
Polymer renders are pre-blended and only require the addition of clean water to mix them. This ensures the quality of the render remains consistent and ensures a superior finish.
Suitable substrates: light weight thermalite block, breeze block, modern brick, insulation boards, phonelic insulation board, Other substrate may also be suitable.
Traditionally, render was made up of a simple sand and cement mix which was applied to poor quality substrates such as brick and blockwork to assist with waterproofing and to offer a more decorative external finish to homes and commercial properties.
Advancements in technology mean that traditional renders have come a long way since then. With the addition of specialist additives to the base materials, such as polymers, silicones, acrylics, aggregate reinforcements and anti-crack fibres, renders are a perfect, cost effective solution for a variety of external wall applications and can be applied either directly to the substrate, or alternatively applied as the final finish on an external wall.
The flexibility of today's renders allows the architect to be more ambitious with their designs and enables them to confidently specify a wide range of colours and specialist finishes.
Smooth Render
Smooth render is a cementitious through-colour render allowing a smooth faced finish to be achieved by the use of a plastic trowel or sponge.
It also incorporates silicone technology to provide a fine textured render, ideal for where the client requires a slightly smoother finish.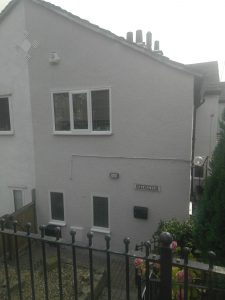 Pebble Dash Render
Pebble dash render is a decorative exterior masonry coating applied to a wall, here at Pristine we use a through coloured polymer based dash receiver with a range of coloured decorative pebble dash (spa), over a fibreglass mesh reinforced adhesive base coat.
Sand and cement was used in pebble dash but Since the 1990's a polymer-cement mortar has been available offering a wide range of colours and is a superior product.
Free Site Survey – teams in all areas, open 7 days a week